Computer Problems?
I'm sure you just hate it when your computer stops working as it should. You have an important document to write, email to send, homework or thesis to finish and the thing just starts acting up. Now what do you do? Call that computer guy, contact your quirky nephew who knows a bit about computers, but all the computer lingo mumbo jumbo just does your head in. You don't have the time to sit around with the technician while he fidgets with a whole bunch of windows you don't understand. You just want it sorted out. Or you have just bought a new computer and it all seems a bit daunting and you don't quite know where to start setting it up and installing things.
It is time to Get It Fixed. The company name says what we do, we get it fixed for you. We know you want it done fast, you don't want to have to sit around and wait for the technician while they sit around in your home or office getting in the way, and you don't want an enormous bill at the end.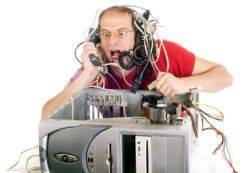 Pick up & drop off service
After years of doing on-site support for people I noticed that everyone is pressed for time and that they don't always have the time to spend sitting with you while you work on their computer, leading to rushing and intruding on peoples lives too much, sometimes late at night. A lot of people try to organise a time when they are able to sit down with a technician, which becomes a juggling act and therefore takes longer to have the problem sorted out (sometimes weeks). I decided a better option was to pick up the equipment and sort out the problem and return it, making it a faster turn around than trying to organise times and co-ordinating being with the technician.
Loaner laptop
For most people these days their computers are their life blood and they can't be without them for extended periods of time, even a couple of hours, they need a computer to function through the day at work, home, school or university. If the computer goes down, they are really stuck and waiting for hours, days or even a week is not an option. So we decided to offer loaner computers to people who would need them to use while their machine is being sorted out. Alleviating the problem of being without a computer.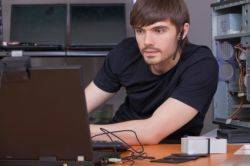 Team of nerds instead of one
Usually you can only afford to have one person look at your device and solve your problem. What if you could get a team of people to solve your problem at low cost? That was one of our founding principles. Get our clients machines in front of a team of people who have loads of experience in sorting out this kind of stuff. An army of nerds for the price of one!
Flat rate fee
Most technicians work on an hourly rate, and usually that is quite high. Most of the time you have no idea how much time it is going to take. They sit there doing things for hours racking up the bill and most of the time you have no real idea what they actually doing. Our service is charged at a flat rate and quoted up front meaning you know exactly what it is going to cost you. We also accept Visa, Mastercard and EFTPOS at your door so payment is easy and convenient.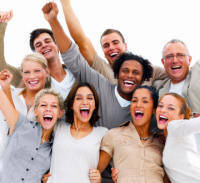 Problem solved or no charge guarantee
We are so sure about our ability to solve any problem you throw our way that in the unlikely event that we can't solve it for you we won't charge you anything at all. So no problem is too complicated, to silly or to problematic for us to solve.
All you have to do now is give us a call on (02) 9439-4819 or click here to get a quote and book your job with us.
Thank you for visiting us. For further information on how our service works please click here.

Gareth Q Barrett
Managing Director
Get It Fixed Australia Pty Ltd