Virus Removal Service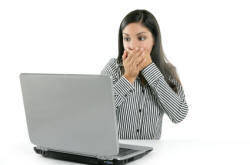 It is just the worst feeling when you realise you have been infected by a computer virus. You accidentally clicked on that link, or email attachment, and the virus just wormed its way onto your computer, bypassing the antivirus software. Now all manner of other junk and problems are just messing up your computer and the thing is running slowly if at all. You just want the best virus removal service in Sydney.
Get It Fixed performs the following:
virus removal service
and removal of just about any other malicious computer infection
cleaning up your system
resecuring your data
educating you on avoiding the same problem in the future
So if your computer is running slowly, strange messages are popping up, or suspicious software is "warning" you that you need to download or scan your system, and you have never heard or seen this stuff before, fill in the form or call (02) 9967 5306. We will come out and pick up your computer, or perform the work onsite if need be and sort is out as quickly as possible.
Our team of nerds like nothing better than a new virus to sink their teeth into, getting your computer clean and operating smoothly as quickly and painlessly as possible. Our virus removal service is our passion so we guarantee to find a solution to your virus problem or we will not charge you.