Virus and Trojan removal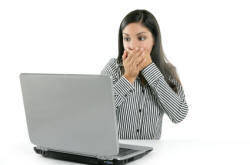 It is just the worst feeling when you realise you have been infected by a virus. You accidentally clicked on that link, or email attachment, and the trojan just wormed its way onto your computer, bypassing the antivirus software. Now all manner of malware, spyware and other junk is just filling up your computer and the thing is running slowly if at all.
Get It Fixed specialises in removing any and all unwanted spyware, viruses, trojan, malware, adware and just about any other malicious computer infection that may have nested in your files. So if your computer is running slowly, strange messages are popping up, or suspicious software is "warning" you that you need to download or scan your system, and you have never heard or seen this stuff before, be sure to book your machine in with us here, or call (02) 9967-5306. We will come out and pick up your computer and sort is out as quickly as possible (see how it works). If you need a computer to use while we are removing the virus or trojan we have loaner laptops available. We quote you our flat rate upfront so that you know exactly how much it is going to cost.
Our team of nerds like nothing better than a new virus to sink their teeth into, getting your computer clean and operating smoothly as quickly and painlessly as possible. Solving computer problems is our passion so we guarantee to find a solution to your virus, trojan, spyware or malware problem or we will not charge you.